About Us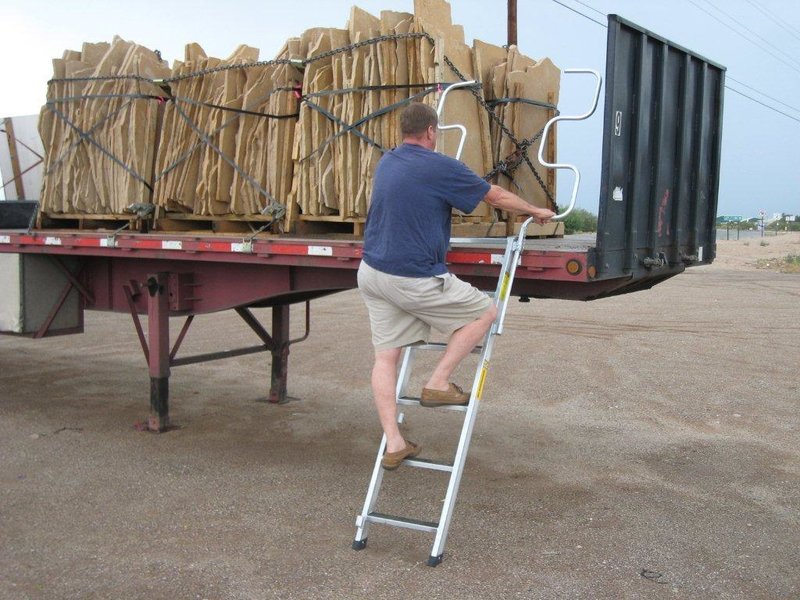 "Necessity...The Mother of Invention" That statement captures the inception of the Anderson Ladder. As a Flatbed Truck Driver myself on Davis Monthan Air Force Base in Tucson, I had seen the potential for injuries to occur by something as simple as climbing up on my Flatbed. Regulations are in place that require a safe means of access to be provided and maintained in all working places. This ladder was designed to provide safer access to dock height flatbed trailers, thereby reducing down time due to injuries helping companies reduce resulting lawsuits and jury awards.
David MacCollum, P.E.C.S.P., past President of the American Society of Safety Engineers, Safety & Health Hall of Fame International inductee, and Chairman of Hazard Information Foundation, an internationally known non-for-profit design safety research agency, targeted the absence of safe access for flatbed trailers in 2006. The Hazard Information Foundation established injury data demonstrating that flatbed trailers created strong incentives for workers to jump down, resulting in severe ankle and foot injuries, as well as knee and hip injuries. The Foundation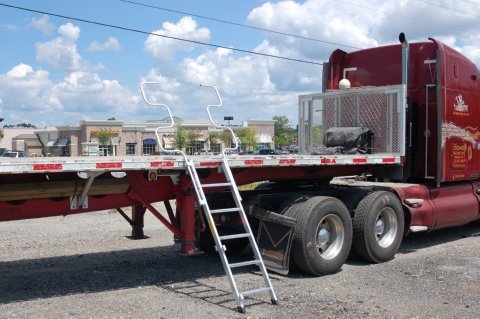 designated the need for a portable ladder to overcome a national unmet hazard prevention requirement. The design safety criteria developed by Hazard Information Foundation and published in Mr. MacCollum's McGraw Hill book "Construction Safety Engineering Principles" are met and exceeded by the ladder developer, Jim Anderson. Mr. MacCollum awared Jim Anderson, President of Anderson Ladder, the Pyramid Award for Safety. Mr. MacCollum states "the users of flatbed trailers have been unsafe for decades", and he is endorsing the Anderson Ladder, saying "the user friendly product provides safer access to flatbed trailers".
The ladder was featured in the May 2008 issue of "Professional Safety, the Journal of the American Society of Safety Engineers", and it is highly recommended in a report by industry experts at Ellis Fall Safety. There are other ladders that provide access to flatbed trailers, but none of them have the unique combination of safety features as the Anderson Ladder nor have they been recommended by leaders in the field of fall safety.